RECOMMENDED
Favourite Books for Children
Favourite Books for Grown-Ups here
Please note -Text in italics is taken from the book jackets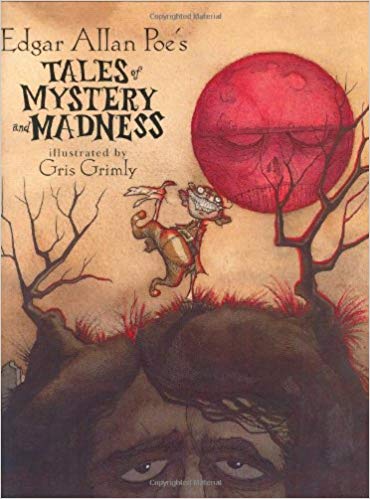 Edgar Allan Poe, Tales of Mystery and Madness
'The original tales have been ever so slightly dismembered -- but, of course, Poe understood dismemberment very well. And he would shriek in ghoulish delight at Gris Grimly's gruesomely delectable illustrations that adorn every page. So prepare yourself. And keep the lights on.'
Credited as the creator of the first detective story, Poe has written some of the most enduringly creepy stories, and this collection though abridged from the originals is brilliantly matched by Gris Grimly's darkly funny illustrations.
---
Jonathan Stroud, Lockwood and Co
'Lucy Carlyle, a young psychic investigator, joins London's smallest agency, run by the charismatic Anthony Lockwood and his ever-hungry assistant George Cubbins. Together the trio must investigate some of the spookiest and deadliest spectral hauntings in the city, armed only with the tools of the ghost-hunting trade (magnesium flares, iron filings, chains and salt bombs), their courage and a thermos of tea.'
A five book series by one of my favourite authors (see Bartimaeus and Heroes of the Valley further down). Lockwood and Co's ghostly encounters are genuinely scary and action-packed and there's plenty of humour too. It's a shame that the main character, Lucy rarely appears on the covers as she's a great protagonist.
---
Dave Shelton, Good Dog, Bad Dog
'Kirk Bergman and Duncan McBoo are pedigree police: the finest canine cops in all Muttropolis. And they're never short of work. The city is heaving with cunning crooks and malevolent mongrels who would sell their own mother for a bone.'
From the pages of The Phoenix Magazine, an outstanding weekly story comic created by genius publisher David Fickling because "The natural right of British children to comics needed to be asserted."
---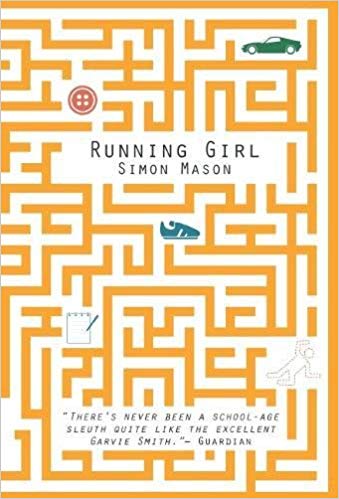 Simon Mason, Running Girl and Kid got Shot
'Meet Garvie Smith. Highest IQ ever recorded at Marsh Academy. Lowest ever grades. What's the point, anyway? Life sucks. Nothing ever happens. Until Chloe Dow's body is pulled from a pond. DI Singh is already on the case. Ambitious, uptight, methodical - he's determined to solve the mystery and get promoted. He doesn't need any 'assistance' from notorious slacker, Smith. Or does he? '
Sherlock Holmes meets Philip Marlowe – in this YA series about a super-clever streetwise teenager from a London housing estate who solves crimes and breaks the rules, effortlessly.
---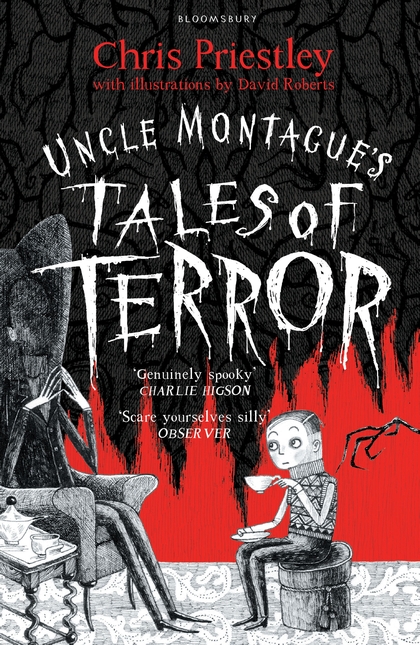 Chris Priestley, Uncle Montague's Tales of Terror
'Uncle Montague lives alone in a big house and his regular visits from his nephew give him the opportunity to relive some of the most frightening stories he knows. But as the stories unfold, a newer and more surprising narrative emerges, one that is perhaps the most frightening of all'
In the great tradition of by-the-fire ghost stories, a collection of creepy treats for those who like a chilling yarn.
---
Emerald Fennell, Shiverton Hall and The Creeper
'Arthur Bannister has been unexpectedly accepted into Shiverton Hall, which, as it turns out, is an incredibly spooky school, full of surprises. And it is just as well that Shiverton Hall has made its offer, because Arthur had a horrible time at his previous school, and was desperate to leave. Timely indeed...'
There are some genuinely frightening stories within stories in this strange but brilliant mixture of boarding school mystery and supernatural chiller
---
Philip Reeve, The Mortal Engines series: 'Mortal Engines', 'Predator's Gold', 'Infernal Devices' and 'A Darkling Plain'.
'London is hunting its prey. For too long, London has been hiding in the hills, safe from bigger, fast, HUNGRIER cities. Now London must feed. But as the chase begins, events within the walls take a sinister turn…'
This is the story of Tom Natsworthy and Hester Shaw and a world where Traction Cities roam the earth consuming each other for parts in a process called 'Municipal Darwinism'. A fantastic steam-punk adventure filled with strange airships, Stalkers - reanimated corpses turned into man-machines, Guilds of Engineers and Historians, 'old tech' discoveries and humans at their best and worst.
…and then he wrote the prequel 'Fever Crumb', which is just as good.
---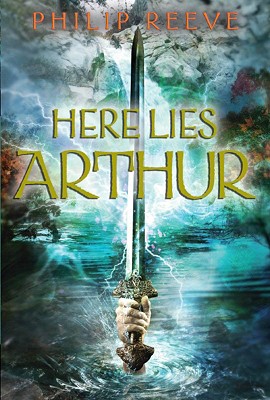 Philip Reeve, 'Here Lies Arthur.'
"There's nothing a man can do that can't be turned into a tale" Gwyna's new master Myriddin says he's not an enchanter, yet he works his own kind of magic. He turns Gwyna from a slave-girl into a goddess, a boy, and a spy – and Arthur into a legend. But is Arthur really the greatest hero of all time?'
This book won the Carnegie Award. It's an imagining of the origins of Arthurian legend. Myriddin is a bard and an olden day spin doctor. Using tricks and staged theatrics, he weaves a mythology around the belligerent warlord, Arthur, convincing him of a great destiny and then spins out his escapades into tales of heroism and magic which bring hope to the people of Dark Age Britain. A dark, atmospheric tale about the conjuring power of storytelling.
---
Patrick Ness, 'The Chaos Walking Trilogy: The Knife of Never Letting Go, The Ask and the Answer and Monsters of Men.'
'TODD HEWITT IS THE LAST BOY IN PRENTISSTOWN. But Prentisstown isn't like other towns. Everyone can hear everyone else's thoughts in a constant, overwhelming, never-ending Noise. There is no privacy. There are no secrets. Or are there? Just one month away from the birthday that will make him a man, Todd unexpectedly stumbles upon a spot of complete silence. Which is impossible. Prentisstown has been lying to him. And now he's going to have to run…'
A thrilling series about power, corruption, love and loyalty. Brilliantly written, an original page-turner.
---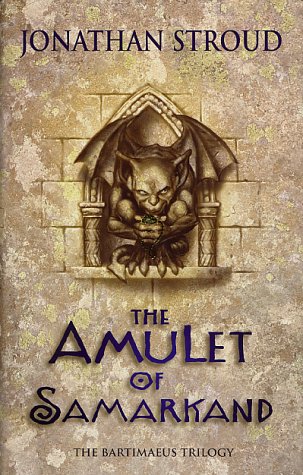 Jonathan Stroud, 'The Bartimaeus Series: The Amulet of Samarkand, The Golem's Eye, Ptolemy's Gate and The Ring of Solomon.'
A young magician's apprentice, Nathaniel, secretly summons the irascible 5,000-year-old djinni, Bartimaeus, to do his bidding. The task for Bartimaeus is not an easy one – he must steal the powerful Amulet of Samarkand from Simon Lovelace, a master magician of unrivalled ruthlessness and ambition. Before long, Bartimaeus and Nathaniel are caught up in a terrifying flood of magical intrigue, rebellion and murder.'
This series, until recently a trilogy, is fantastic because of the humour and the tension between the two narrators. It's set in a world where magicians are the governing class, but their power comes from the djinni who they summon and enslave to do their bidding. If they make any mistakes in the summoning the djinni will be free to kill them, if the summoning is watertight then the djinni is bound to their will. All the books are great but the Amulet is my favourite, though Ptolemy's Gate has one of the best twist endings I've read.
---
Jonathan Stroud's Heroes of the Valley.
'Halli loves to hear stories from the days when the valley was a wild and dangerous place, besieged by the bloodthirsty Trows. He likes to imagine the night the legendary heroes joined together and defeated the ancient foe. Nowadays heroics seem a thing of the past. But when a practical joke rekindles an old blood feud, Halli spots a chance for a quest of his own. Together with Aud, a girl just as fearless as he is, he begins an epic adventure. Soon they will challenge everything they've ever known, and uncover the truth about the legends, the valley and themselves.'
This book is both hilarious and a fearsome adventure story, it has everything you could want and more.


---
Eleanor Updale's, 'Montmorency'
'Fleeing across a roof on a dark night in Victorian London, a thief crashes through a glass skylight to almost certain death. But an ambitious young doctor revives and reconstructs his shattered body, proudly showing off his handiwork at the Scientific Society where the city's intelligentsia meet. It's there that the robber picks up the key to a new existence, and on his release from prison begins to lead a double life. He becomes both the respectable, wealthy Montmorency and his degenerate servant, Scarper – while the police are baffled by a wave of mysterious and seemingly unstoppable thefts…Yet Montmorency must be on his guard at every moment. The smallest mistake could reveal his secret and destroy both his lives.'
A great tale of reinvention, Montmorency is bold and daring and his love of character acting reminded me of Sherlock Holmes ….Winner of the 2004 Blue Peter 'Book I Couldn't Put Down' Award.
---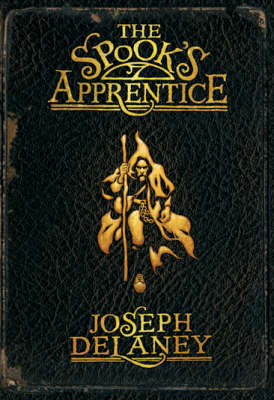 'Joseph Delaney's Spook's Series: The Spook's Apprentice, The Spooks Curse The Spook's Secret and The Spook's Battle'.
'For years, the local Spook has been keeping the Country safe from evil. Now his time is coming to an end, but who will take over? Many apprentices have tried… Some floundered, some fled, some failed to stay alive. Just one boy is left. Thomas Ward. He is the last hope. But does he stand a chance against Mother Malkin, the most dangerous witch in the county.'
Full of the rich folklore of the Northern counties. The story is told by Tom, the seventh son of a seventh son and young apprentice of the Spook, a grim, mysterious man and a hard-task master. He trains Tom in the difficult and dangerous craft of fighting 'the Dark' with its Boggarts and clans of Bone and Blood Witches and warns him to beware of women with pointy shoes…
---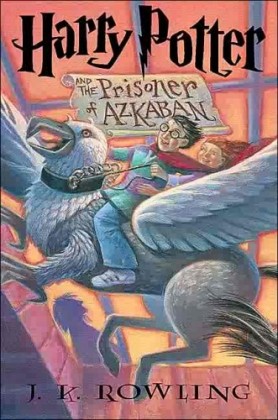 J.K. Rowling's Harry Potter series, especially 'The Prisoner of Azkaban' and 'The Deathly Hallows'
'Harry Potter, along with his best friends, Ron and Hermione, is about to start his third year at Hogwarts School of Witchcraft and Wizardry. Harry can't wait to get back to school after the summer holidays. (Who wouldn't if they lived with the horrible Dursleys?) But when Harry gets to Hogwarts, the atmosphere is tense. There's an escaped mass murderer on the loose, and the sinister prison guards of Azkaban have been called in to guard the school…'
I didn't know what the fuss was about until I read 'The Prisoner of Azkaban' and then I was hooked on the whole series. Book 3 is much darker than the two preceding episodes. I remember doing everything one-handed so I could read at the same time - the ultimate books-you-can't-put-down.
---
Michelle Paver, 'The Chronicles of Ancient Darkness: Wolf Brother, Spirit Walker, Soul Eater, Outcast, Oath Breaker and Ghost Hunter'.
'Torak is alone…wounded, terrified, and on the run. An outcast like his father, he has avoided all contact with the clans. But now his father lies dead: slaughtered by a demon in the form of a great bear. Somehow, Torak must keep going. His only ally is an orphaned wolf club… WOLF BROTHER carries you back thousands of years to the ancient darkness of the forest: to a world steeped in natural magic and elemental terror, a world in which trusting a friend means risking your life.'
These books are tense and atmospheric, with a completely convincing portrayal of the ancient world in which they're set. Lots of clever detail here brings the story alive, plus some of the chapters are narrated by a wolf, and there we see the world through his eyes, as his relationship with Torak develops.
---
Roald Dahl, 'The Witches', 'Danny the Champion of the World' and 'The BFG'.
'Witches really are a detestable breed. They disguise themselves as lovely ladies, when secretly they want to squish and squelch all the wretched children they despise. Luckily one boy and his grandmother know how to recognise these vile creatures – but can they get rid of them for good.'
All of Roald Dahl's children's stories are fantastic but 'The Witches' is my favourite, with its cigar-smoking Norwegian grandmother, performing mice and a genuinely terrifying conference of witches.
---
Favourite Books for Grown-Ups
Please note -Text in italics is taken from the book jackets
Dorothy B. Hughes, 'In a lonely place' and 'Ride the pink horse'
'Postwar Los Angeles is a lonely place where the American Dream is showing its seamy underside—and a stranger is preying on young women. The suggestively named Dix Steele, a cynical vet with a chip on his shoulder about the opposite sex, is the LAPD's top suspect. Dix knows enough to watch his step, especially since his best friend is on the force, but when he meets the luscious Laurel Gray—a femme fatale with brains—something begins to crack.'

---
Dashiell Hammett, 'The Maltese Falcon' and 'Red Harvest'
'Sam Spade is hired by the fragrant Miss Wonderley to track down her sister, who has eloped with a louse called Floyd Thursby. But Miss Wonderley is in fact the beautiful and treacherous Brigid O'Shaughnessy, and when Spade's partner Miles Archer is shot while on Thursby's trail, Spade finds himself both hunter and hunted: can he track down the jewel-encrusted bird, a treasure worth killing for, before the Fat Man finds him?'

---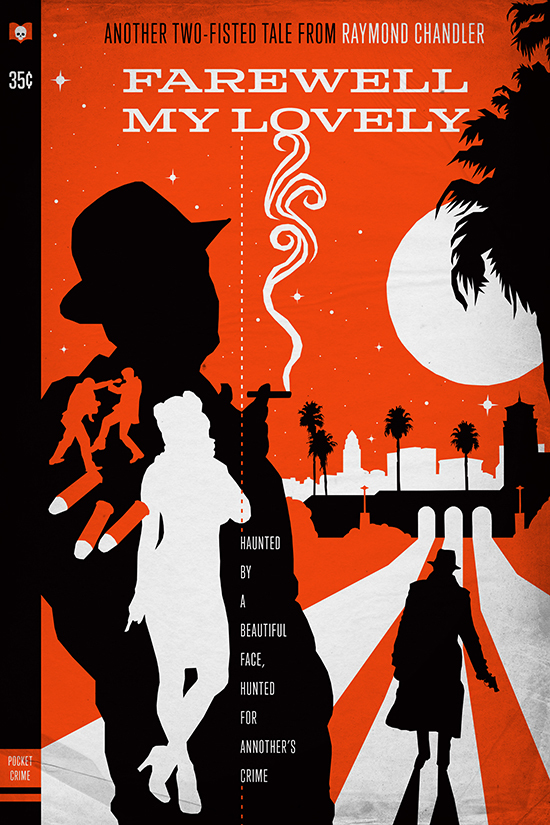 Raymond Chandler 'Farewell my lovely' and 'The Long Goodbye'
'Marlowe's about to give up on a completely routine case when he finds himself in the wrong place at the right time to get caught up in a murder that leads to a ring of jewel thieves, another murder, a fortune-teller, a couple more murders, and more corruption than your average graveyard.'

---
George V. Higgins, The Friends of Eddie Coyle
'Eddie Coyle works for Jimmy Scalisi, supplying him with guns for a couple of bank jobs. But a cop named Foley is on to Eddie and he's leaning on him to finger Scalisi, a gang leader with a lot to hide. And then there's Dillon-a full-time bartender and part-time contract killer--pretending to be Eddie's friend. Wheeling, dealing, chasing, and stealing--that's Eddie, and he's got lots of friends.'

---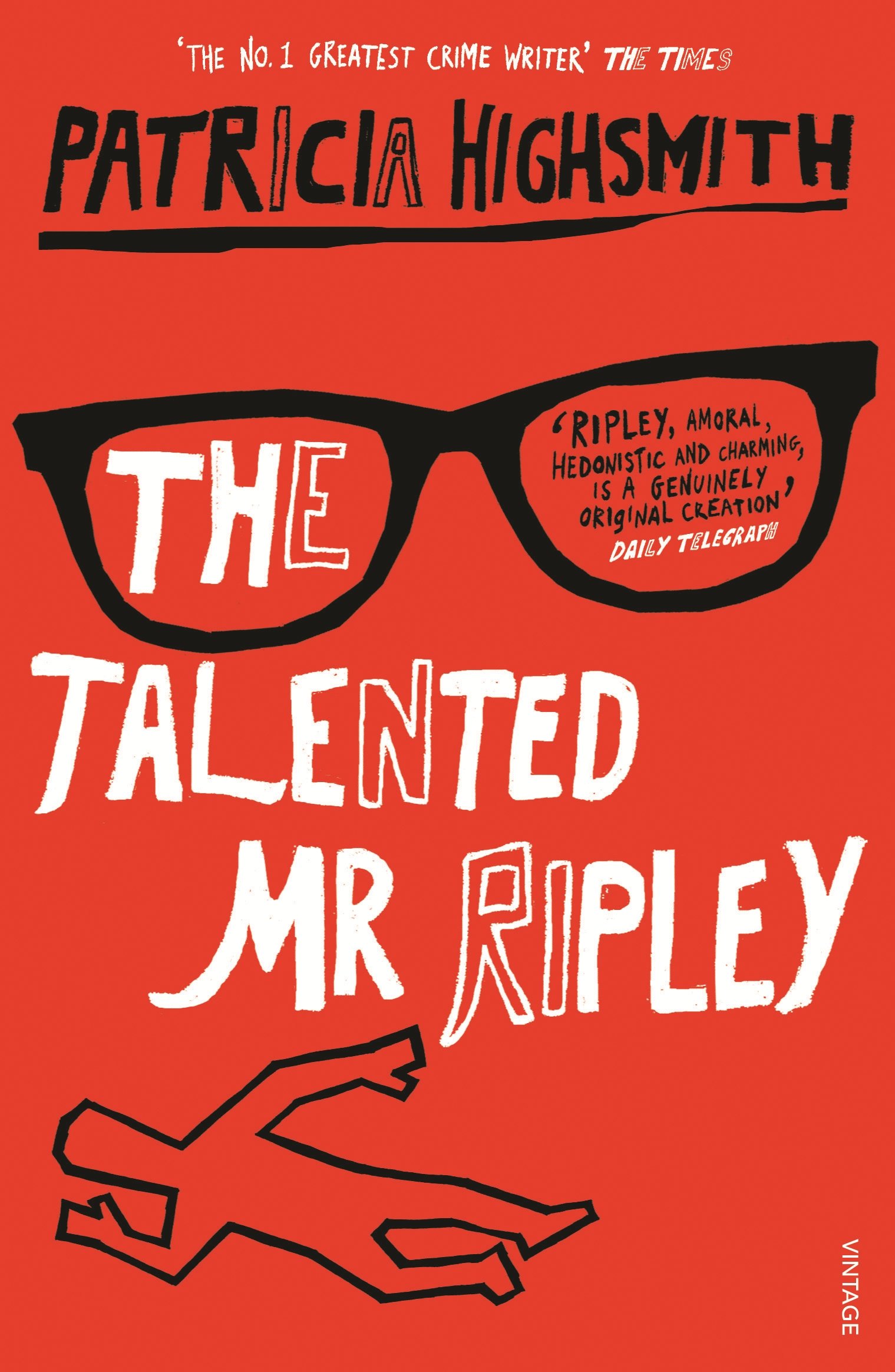 Patricia Highsmith, The Talented Mr Ripley
'Tom Ripley is struggling to stay one step ahead of his creditors and the law, when an unexpected acquaintance offers him a free trip to Europe and a chance to start over. Ripley wants money, success and the good life and he's willing to kill for it. When his new-found happiness is threatened, his response is as swift as it is shocking.'
The ultimate anti-hero – this novel is masterful suspense writing.
---
Alan Moore, Watchmen and V for Vendetta
'This Hugo Award-winning graphic novel chronicles the fall from grace of a group of super-heroes plagued by all-too-human failings. Along the way, the concept of the super-hero is dissected as the heroes are stalked by an unknown assassin'

---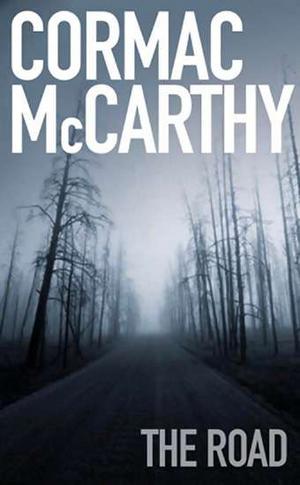 Cormac McCarthy 'No Country for Old Men', 'The Road' and 'The Border Trilogy; All the Pretty Horses, The Crossing and Cities of the Plains'
'John Grady Cole is the last bewildered survivor of long generations of Texas ranchers. Finding himself cut off from the only life he has ever wanted, he sets out for Mexico with his friend Lacey Rawlins. Befriending a third boy on the way, they find a country beyond their imagining: barren and beautiful, rugged yet cruelly civilised; a place where dreams are paid for in blood.'
McCarthy's stories are bleak and beautiful odysseys through America, stark portraits of courageous and capable men-of-few-words travelling through a desolate country.
---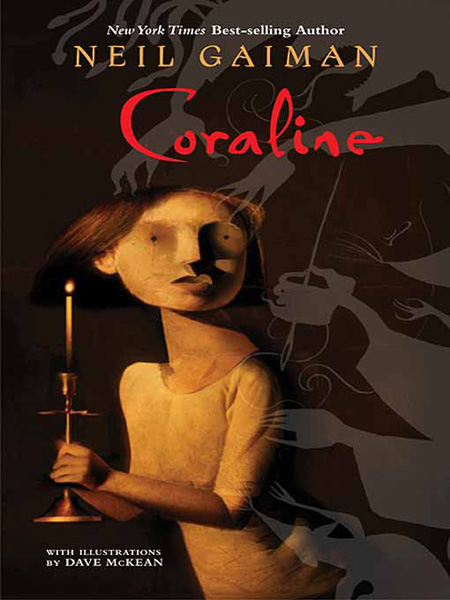 Neil Gaiman 'Coraline', 'Stardust' and 'Neverwhere'.
'Coraline is not the kind of girl to be put off by a sign of danger read in some tea-leaves or indeed a message sent to her by some very talented mice! No, she is the kind of girl who faces a challenge with bravery, intelligence and a lot of determination. Which is just as well because she is going to need all those skills, and more, in this wonderful, spooky tale of a girl caught on the wrong side of a door, with counterfeit parents who have buttons for eyes and who clearly do not intend to set her free.'
Neil Gaiman is my favourite fantasy writer, the kind I'd like to be. His books open doors which transport you into other worlds; dark, extraordinary and completely believable. You'll never think of buttons, stars or the London Underground in the same way again…


---
Annie Proulx's 'The Shipping News'.
'Quoyle is a hapless, hopeless hack journalist living and working in New York. When his no-good wife is killed in a spectacular road accident, Quoyle heads for the land of his forefathers – the remotest corner of far-slung Newfoundland. With his delinquent daughters, Bunny and Sunshine, in tow, Quoyle finds himself a part of an unfolding, exhilarating Atlantic drama. The Shipping News is an irresistible comedy of human life and possibility.'
One of my invented characters, Howard Bloom, owes much to Quoyle. He's a great protagonist, and it's through his eyes that we experience this haunting landscape and eccentric community of Newfoundland. This book is a comic and often tragic human story of intrigue, self-discovery and dark family secrets.


---
John Irving's 'Cider House Rules' and 'The World According to Garp.'
'Set among the apple orchards of rural Maine, it is a perverse world in which Homer Wells' odyssey begins. As the oldest unadopted offspring at St. Cloud's orphanage, he learns about the skills which, one way or another, help young and not so young women, from Wilbur Larch, the orphanage's founder, a man of rare compassion and with an addiction to ether. Dr Larch loves all his orphans, especially Homer Wells. It is Homer's story we follow, from his early apprenticeship in the orphanage surgery, to his adult life running a cider-making factory and his strange relationship with the wife of his closest friend.'
John Irving is a great and unflinching storyteller. His books are peopled by larger-than-life characters, tragic and comical philosophisers and thwarted dreamers. And they are usually set, at least in part, in New England.
---
'The Prestige' by Christopher Priest
'Two 19th century stage illusionists, the aristocratic Rupert Angier and the working-class Alfred Borden, engage in a bitter and deadly feud; the effects are still being felt by their respective families a hundred years later. Working in the smoke-and-mirrors world of Victorian music halls, both men move stealthily in the background of each other's shadowy life, driven to the extremes by a deadly combination of obsessive secrecy and insatiable curiosity. At the heart of the row is an amazing illusion they both perform during their stage acts. The secret of the magic is simple, and the reader is in on it almost from the start, but to the antagonists the real mystery lies deeper. Both have something more to hide than the mere workings of a trick.'
I saw the film first and wondered how the book could have pulled the big reveal without the visual effects – it does so but in a different way, this book is cleverly constructed and the ending even more chilling.
---
'Carter Beats the Devil' by Glen David Gold.
A glorious and magical tale. It's based loosely on the real life of 1920s American magician, Charles Carter, and then embellished with fabulous stories, spellbinding theatrical descriptions and eccentric characters.
Both books are steeped in the fantastical world of magicians and their tricks and although totally different in style, they are equally fantastic in their pulling of a clever sleight of hand in words, though the Prestige is the more terrifying.
---
Michael Chabon 'Wonder Boys' 'The Amazing Adventures of Kavalier and Clay' and 'The Yiddish Policeman's Union.'
'One night in 1939, Josef Kavalier shuffles into his cousin Sam Clay's cramped New York bedroom, his nerve-racking escape from Prague finally achieved. Little does he realise that this is the beginning of an extraordinary friendship and even more fruitful business partnership. Together, they create a comic strip called 'The Escapist', its superhero a Nazi-busting saviour who liberates the oppressed around the world. 'The Escapist' makes their fortune, but Joe can only think of one thing: how can he effect a real-life escape, and free his family from the tyranny of Hitler.'
For years 'Wonder Boys' was my favourite book and was probably responsible for my wanting to become a writer, having been seduced by the ramshackle lifestyle of it's main character, Grady Tripp. On reading it for a second time I realised that it was the tale of a man in crisis and I had been blinded to the comic desperation of the story by dreams writing for a living, of having editors and teaching at universities. It's still a very funny book…
---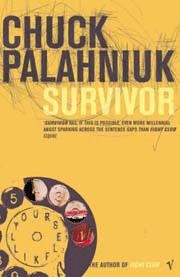 Chuck Palahniuk's 'Survivor', 'Choke', 'Rant', 'Fight Club', and 'Haunted'.
'Tender Branson, the last surviving member of the Creedish Death Cult, has commandeered a Boeing 74, emptied of passengers, in order to tell his story to the plane's black box before it crashes. Brought up by the repressive cult and, like all Creedish younger sons, hired out as a domestic servant, Tender finds himself suddenly famous when his fellow cult members all commit suicide. As media messiah he ascends to the very top of the freak-show heap before finally and apocalyptically spiralling out of control.'
An original and subversive voice of modern America. His books are expertly written, funny, horrifying and perceptive.


---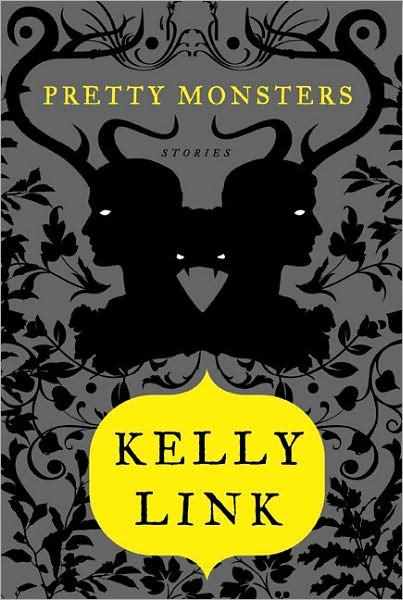 Kelly Link 'Pretty Monsters'
'Boiling up a unique brew of fairytale, fantasy, horror, myth and mischief, PRETTY MONSTERS contains: Ghosts of girlfriends past, A Scrabble-loving grandma, An undead babysitter, Unhelpful wizards, Possibly carnivorous sofas, Duelling librarians, Shapeshifters, A handbag with a village in it, Aliens, A boy named Onion, Pirates, A nationally ranked football player, An unexpected campfire guest.'
These short stories are fascinating, a collection of weird and wonderful tales with brilliant illustrations by Shaun Tan.
---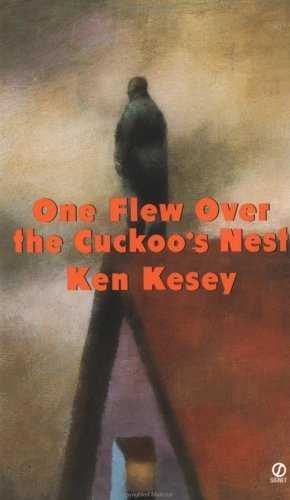 'One Flew Over the Cuckoo's Nest' by Ken Kesey.
'Into the all-powerful mental institution comes McMurphy, a brawling gambling man of immense charm , who wages total war on behalf of his cowed fellow inmates. What follows is at once hilarious and heroic, tragic and ultimately liberating, as McMurphy's war is at first won, then lost.'
One of the best books you'll ever read.
---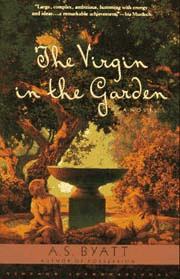 'The Fredrica Quartet: The Virgin in the Garden, Still Life, Babel Tower and The Whistling Woman.' and 'The Children's Book' by A.S. Byatt.
'A wonderful entertainment in which enlightenment and sexuality, Elizabethan drama and contemporary comedy, intersect richly and unpredictably. Set in Yorkshire in 1952 as the inhabitants of the areas set about celebrating the accession of a new Queen, this is the tale of a brilliant and eccentric family fatefully divided.'
These books are heavy-weights but compelling, full of vivid detail and convincing but flawed characters whose lives are so intriguing that you want to follow them over every page.



---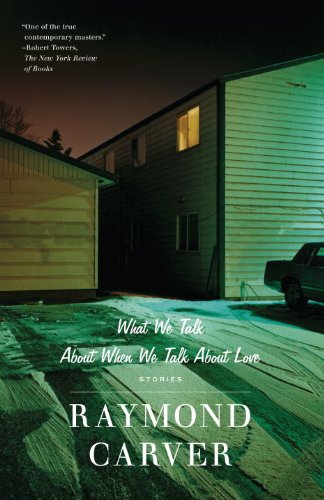 Raymond Carver's 'What We Talk About When We Talk About Love' and 'Will You Please be Quiet Please?'
'This powerful collection of stories, set in the Northwest among the lonely men and women who drink, fish and play cards to ease the passing of time, was the first by Raymond Carver to be published in the UK. With its spare, colloquial narration and razor-sharp sense of how people really communicate, the collection went on to become one of the most influential pieces of literary fiction.'
Raymond Carver's short stories are so potent and weirdly disturbing after you've finished one, you can't read another one for a while.
---